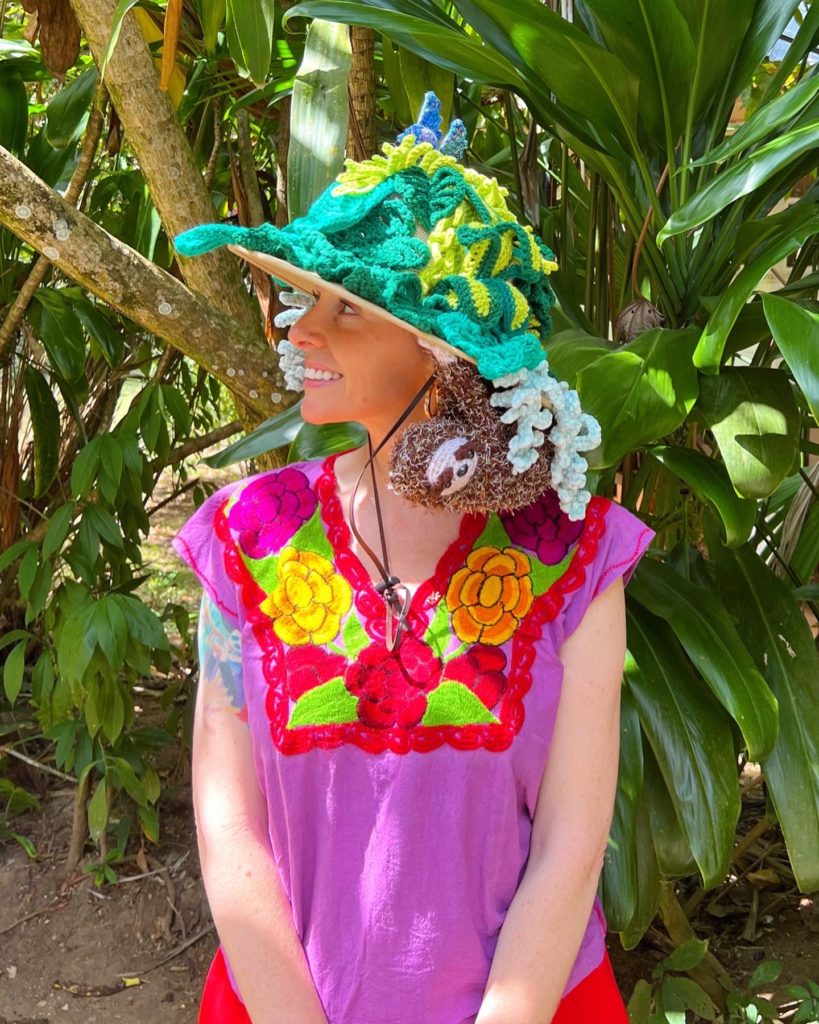 I was invited to spend two weeks in residency at DiNaLab in February. Ahead of my visit I had begun to meld my practices as a horticulturist and fiber artist into an exploration of crochet leaf studies. I decided to spend my time at DiNaLab furthering this exploration with the hope of making something new with the leaves. Kitty and I had been discussing the possibility of collaborating on a piece during my residency, as she is also a wonderful fiber artist. I love her amigurumi creatures and decided to make a home for some of them among a crochet leafy jungle.
Fiber work can be a slow process (as can life) and I wasn't able to make as many leaves as I would have liked. But in the end there were enough to make a nice home for a very cute sloth and a shimmery hummingbird, both knitted by Kitty. We made a headdress that one might wear as camouflage in the jungle or while rollerblading around Gamboa.
I also learned a new skill at DiNaLab: using a laser cutter. I was really inspired by Andy and Kitty's plastic projects. I love their keychain and earring designs and decided to take a crack at my own. Andy helped me create a two-layer papaya design to turn into earrings. I also repurposed some of Kitty and Andy's existing designs to make new jewelry. I was able to pull off a mini collection in my time there and then got to collaborate with DiNaLab intern Lieke on a tropical photoshoot.
DiNaLab was the perfect place to be after a very long and stressful pandemic experience in New York City. Each morning I sat in the yard with my coffee, watching the menagerie of critters: ñekes, toucans, chachalacas, iguanas, sloths, hummingbirds, and even one blue morpho butterfly who seemed to have a regular daily commute. I spent a lot of time staring at the leaves around me, noticing the subtle changes in colors, the curves in their forms, the way the light changed them completely. After two plus years of frantically trying to keep afloat during the pandemic, slowing that far down reset the chemistry in my brain.
It's rare to find folks as welcoming and supportive as Andy and Kitty. It was a delight to spend time making and talking about fiber art with Kitty. And being around Andy as he tinkers and explores his various projects was exciting and inspiring. Gamboa itself is an inspiring setting with the dense tropical forest and abundant wildlife. It was hard to find the emotional space to be creative during the worst of the pandemic. At DiNaLab I felt my head once again beginning to swirl with ideas.